Athens University of Economics and Business
5th Summit on Gender Equality in Computing - GEC 2023
26-27 June 2023
Athens University of Economics and Business, Athens, Greece
http://gec23.aueb.gr/
The 5th Summit on Gender Equality in Computing - GEC'23 http://gec23.aueb.gr/), which is organized by the Greek Chapter of the Association for Computer Machinery-Women (ACM-W), with the support of the Department of Informatics of the Athens University of Economics and Business (AUEB), will take place on Monday 26 and Tuesday 27 June, 2023. The two-day event aims to promote gender equality in the scientific field of Computer Science, as well as the equal encouragement of professionals (regardless of gender) to achieve their professional goals in this field. Through a series of activities (invited lectures, seminars, panels), participants will have the opportunity to learn about current developments and important achievements in Computer Science, while gaining motivation to use their potential in the  professional arena.
Call for Posters
poster paper submission of up to 2 pages - new submission deadline 26 May 2023
the conference is free
submissions of work already published elsewhere is allowed
a small number of travel grants of up to 300 Euros will be given to young researchers/students who will travel outside of Athens
the conference will have a wide range of activities, e.g. keynotes, panel, poster session, career fair with the participation of large companies
the main objective is to engage researchers of all genders to promote research results and exchange ideas in a creative environment
All information at http://gec23.aueb.gr/posters/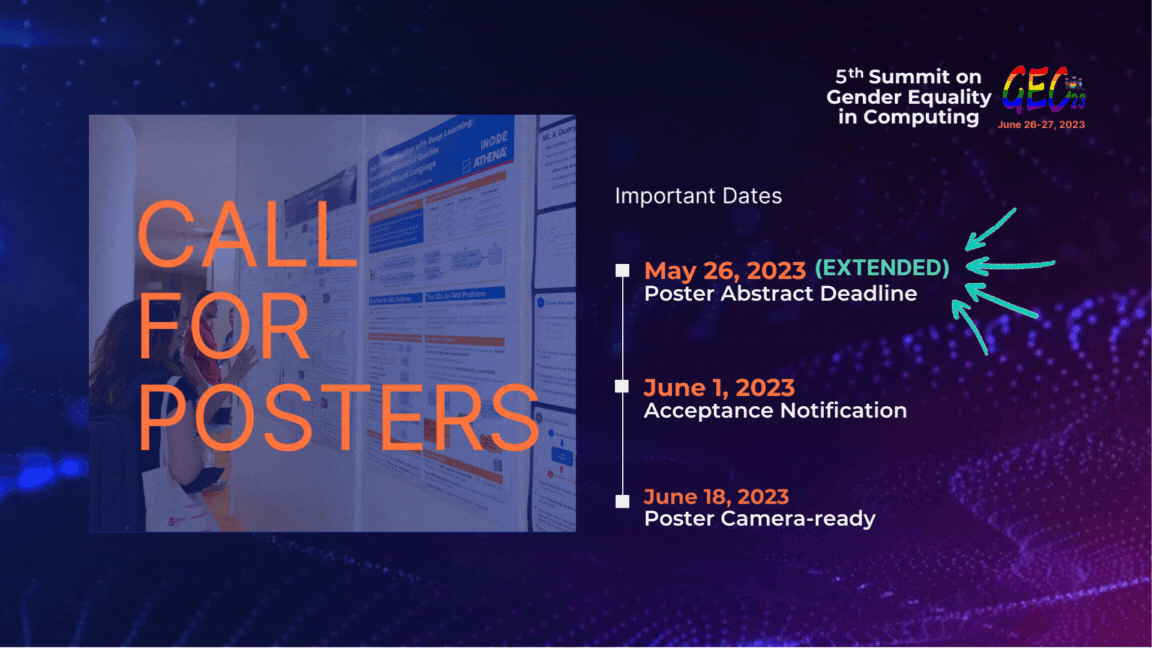 Greek Chapter of the ACM-W
The Greek Chapter of the Association for Computing Machinery-Women (ACM-W) was founded in July 2018 by 43 members, mostly women from academic departments of Computing at Greek Universities. Today the Chapter numbers more than 250 members, from Greece and abroad.