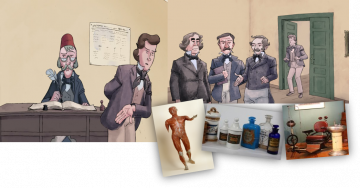 On the occasion of the 180th anniversary of the founding of the National and Kapodistrian University of Athens, the History Museum of the University of Athens in collaboration with the Department of Informatics and Telecommunications and the Research Center "Athena", launches the new digital storytelling application for mobile devices "What to study". We invite you to tour one of the oldest Athenian houses and historic buildings in Plaka, where in 1837 the University began its operation. On a trip to 1840 through the eyes of a young man of the time, you will see many exhibits of the Museum, scientific instruments, the first Student Register, the first textbooks and you will meet the first Professors of the University!
The digital application has been developed with funding from the European Commission in the framework of the H2020 EMOTIVE project, by researchers: Prof. G. Ioannidis, Dr. A. Katifori, M. Karvouni, V. Kourti, E. Vrettaki.
The mobile app is available for free downloading from Google Play (in English).