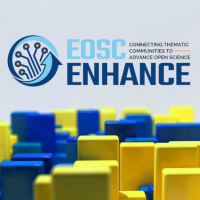 EOSC Enhance - Enhancing the EOSC portal and connecting thematic clouds
EOSC Enhance pursues 4 objectives:
Enhance the service provider interface and incorporate new services and resources into the EOSC catalogue
Accelerate the deployment and uptake of EOSC services and resources
Increase user demand for EOSC services and resources via portal improvements and development
Enabling easier access to thematic clouds services and data
EOSC Enhance will improve and enhance the discoverability of scientific services and data resources by further developing and widening the EOSC catalogue. This will be done through the integration of additional services and data resources (notably the ESFRI clusters and thematic and geographic clouds) as well as further technical enhancement of the functionalities for service providers (Open APIs, AAI) and users (search and comparison tools, etc.). Quality reports will be provided to service providers.
EOSC Enhance is coordinated by the National and Kapodistrian University of Athens and has been funded under H2020-EU.1.4.1.1. - Developing new world-class research infrastructures, to run from
https://www.eosc-portal.eu/enhance
Researchers: Prof. Y. Ioannidis,  Prof. Emeritus M. Hatzopoulos