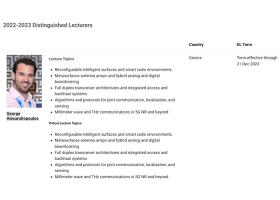 Assistant Professor George Alexandropoulos was recently named Distinguished Lecturer for the years 2022 and 2023 by the IEEE Communications Society (ComSoc). IEEE ComSoc Distinguished Speakers are nominated for a two-year term, may be appointed more than once, and may continue to serve for an additional two-year term at the discretion of the Selection Committee.
Prof. Alexandropoulos is one of the 31 Distinguished Speakers selected from around the world for the years 2022 and 2023.
The Distinguished Lecturer Program connects experienced IEEE ComSoc members, internationally recognized telecommunications technology experts, with IEEE ComSoc affiliates around the world to disseminate their knowledge, expertise and vision for the future of telecommunications.
During the Distinguished Lecturer Program, speakers address at least three groups in three separate locations. For 2022, IEEE ComSoc will offer the speech program, both online and live.
Topics of Prof. G. Alexandropoulos:The Distinguished Lecturer Program connects experienced IEEE ComSoc members, internationally recognized telecommunications technology experts, with IEEE ComSoc affiliates around the world to disseminate their knowledge, expertise and vision for the future. of telecommunications. During the Distinguished Lecturer Program, speakers address at least three groups in three separate locations. For 2022, IEEE ComSoc will offer the speech program, both online and live. Topics of Prof. G. Alexandropoulos:
Reconfigurable intelligent surfaces and smart radio environments
Metasurfaces antenna arrays and hybrid analog and digital beamforming
Full duplex transceiver architectures and integrated access and backhaul systems
Algorithms and protocols for joint communication, localization, and sensing
Millimeter wave and THz communications in 5G NR and beyond